Gov. Andrew Cuomo of New York outlined his 2019 agenda, which included a push to legalize recreational marijuana and a call to address injustices that have "for too long targeted the African-American and minority communities."
Credit – Victor J. Blue for The New York Times
By Vivian Wang -Dec. 17, 2018
Gov. Andrew M. Cuomo announced that he would push to legalize recreational marijuana next year, a move that could generate more than $1.7 billion in sales annually and put New York in line with several neighboring states.
The highly anticipated proposal came in a speech in Manhattan on Monday, in which the governor outlined his agenda for the first 100 days of his third term. Mr. Cuomo framed the speech as a reflection on what Franklin Delano Roosevelt — the former president who was once a New York governor himself — would do today, mixing sweeping rhetoric about American ideals with grim warnings about the Trump administration.
The speech, which seemed delivered with a national audience in mind, could prolong slow-burning speculation about Mr. Cuomo's presidential ambitions. It also showed, in striking detail, the governor's leftward evolution in his eight years in office, from a business-friendly centrist who considered marijuana a "gateway drug," to a self-described progressive championing recreational marijuana, taxes on the rich and a ban on corporate political donations.
"The fact is we have had two criminal justice systems: one for the wealthy and the well off, and one for everyone else," Mr. Cuomo said before introducing the cannabis proposal, describing the injustice that had "for too long targeted the African-American and minority communities.
"Let's legalize the adult use of recreational marijuana once and for all," he added.
Ten other states and Washington, D.C., have legalized recreational marijuana, spending the new tax revenue on a range of initiatives, including schools and transportation.
The idea is expected to win support in Albany, where Democrats captured the State Senate in November. Members of the Assembly, which is dominated by New York City Democrats, have supported such a measure as well.
After November, that excuse vanishes. Mr. Cuomo said so, too: "There are no more excuses, my friends. Now is the time to stand up and lead, and do what you've said you were going to do all those years."
Compared to the other proposals, the marijuana idea received just a passing mention, despite the attention it has captured among policy wonks and average New Yorkers alike. Mr. Cuomo did not describe how he would use the tax revenue that legalization could generate, or offer details about how he would regulate a drug that he had previously made clear he considered dangerous.
He for years rejected allowing even medical marijuana, declaring that its dangers overshadowed its benefits. He continued to oppose it into 2013, before approving a highly limited pilot program in 2014.
After complaints from advocates, the state eased some of those restrictions in 2016. But Mr. Cuomo remained wary, telling reporters as recently as last year that he considered marijuana a "gateway drug."
It was not until this year that Mr. Cuomo warmed to the idea, saying that the "facts have changed" around the drug and acknowledging its legalization in nearby states: Massachusetts in 2016 and New Jersey now moving to do the same. The governor's primary opponent, Cynthia Nixon, made legalization a central plank of her campaign.
The clearest indication of what legalization might look like in New York may be found in a report issued in July by the state Department of Health, which Mr. Cuomo had empowered to study the issue. The commission, which the governor convened in January, concluded that the benefits of taxing and regulating the drug outweighed any negative effects.
Legalization could bring in between $248 million and $677 million in new tax revenue in its first year, the report said. In addition, it could also ease the opioid crisis and mitigate racial disparities in the criminal justice system.
A Quinnipiac University poll in May showed that 63 percent of New Yorker's favored legalizing marijuana.
For more information on our Long Island Cannabis Tour Packages, or to make Reservations, please call LI Cannabis Tours® today. Call us at (516)-420-TOURS / (516)-420-8687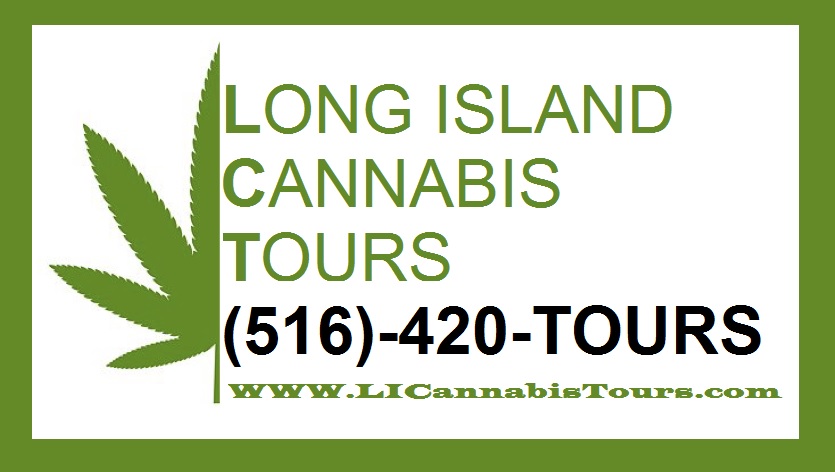 Thank you for choosing Long Island Cannabis Tours